The world of VoIP services is like any other, pick the wrong provider and you could end up being caught up in a vicious circle of menu options, queuing systems and long winded phone calls while you try to sort out your technical problems.
Without naming and shaming, some VoIP providers that we spoke to were struggling to make their own phone systems work. We made a couple of calls that we had to cut short because we weren't able to hear the sales person over the line interference - not the best way to promote a telephone service! Then there were those who tried the hard sell offering sweeteners like 'switch today and we'll give you a free gift'. Dissatisfied with our findings, our search continued until we found a VoIP provider called Orbtalk.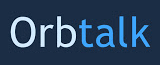 Orbtalk are based in the UK and provide a wide range of VoIP solutions for any size of business. They also offer a 'Pay As You Go' VoIP service that is perfect for that second phone line at home. For more details on how to switch to Orbtalk watch the video below or visit the Orbtalk Website
Fasterbroadband switches to Orbtalk VoIP
Our experience of Orbtalk so far has been that they provide a very competitively priced, friendly and reliable service. We think that good service deserves recognition but rather than write a review we decided to make it newsworthy. Well done Orbtalk! you made our telephone switch over seamless.