Our review of BT
Upgrade to 'BT Complete Wi-Fi'
BT offers 'Complete Wi-Fi,' ensuring seamless reception in every room with a 'strong signal guarantee.' It includes the latest Smart Hub 2 and a Wi-Fi disk. If reception isn't seamless, BT provides two additional Wi-Fi discs at no cost. After three months, claim a £100 credit if you can't achieve at least 10Mbps in every room (excluding broadband faults). Adding this feature to a new or existing contract costs an extra £10 per month.
Can I buy my own BT 'Complete Wi-Fi' disks?
Yes! But they're an expensive way of boosting your Wi-Fi when purchased individually. BT 'Complete Wi-Fi' is incompatible with the first-generation Smart Hub, so you'll need a Smart Hub 2 priced at £100. Then, each additional Wi-Fi disk will cost a further £100. One disk will likely get you full Wi-Fi coverage, but if you live in a multi-storey or large house, we would advise adding a package to your contract as BT offers up to 3 FREE Wi-Fi disks. The main benefit of buying your own disk is that you don't need to return them at the end of the contract. If you plan to stay with BT for a long time, it may be worth investing in your own new or pre-owned equipment (see ownership of hubs below for further details). Note: If you're using equipment that you purchased separately and is not owned by BT, the 'Stay Fast Guarantee' (see above) doesn't apply. Visit the BT Shop www.bt.com
BT Smart Hub 2 Review
The BT Smart Hub 2 offers very similar features to the original Smart Hub 1 and now comes free with any BT Fibre broadband package. Both the Hub 1 & 2 offer dual-band Wi-Fi, but as the Hub 2 is designed for use with BT's 'Complete Wi-Fi system', it's impossible to split the SSID names for 2.4Ghz and 5Ghz. This won't bother most users, but if you want to have two independent network names, it's impossible with the Smart Hub 2 (Note: If you don't know what an SSID is, you don't need to be concerned about this).
BT Smart Hub 2 additional features
| | |
| --- | --- |
| 1 | Same specifications as the original BT Smart Hub |
| 2 | Compatible with BT's 'Complete Wi-Fi' service |
| 3 | Compatible with BT's '4G Hybrid Connect' service |
| 4 | Dect phone compatible (Catiq 2.1) |
One of the key benefits of the Hub 2 is the inclusion of dect phone compatibility built into the router. This means if you have any CATiq 2.1 compliant dect phones, they will work with the Smart Hub 2 without needing an additional phone base station.
BT Hybrid Connect (Unbreakable Wi-Fi add on)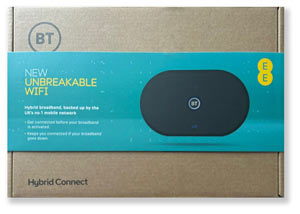 BT's 'Hybrid Connect' is an additional feature for your BT broadband. It's a 4G router that connects between your BT SmartHub router and EE's 4G mobile network. If your BT broadband connection fails, it seamlessly switches to the EE mobile network and restores back to BT broadband once the fault is resolved. Your hybrid 4G router will be delivered the day after you place your order, so you can get online immediately upon arrival. It's a perfect temporary solution while waiting for your BT broadband to be activated. Hybrid Connect also works with the BT Wi-Fi Complete service, ensuring you'll receive broadband in every area of your home. BT bravely calls this unbreakable home Wi-Fi. Add Hybrid Connect to your broadband account for £7 per month. Visit BT to find out more www.bt.com
FREE BT Call Protect
Call protect automatically diverts known nuisance callers to a junk voicemail. It's incredibly effective and straightforward to use. You can also block numbers by type, i.e. international or withheld numbers. If a nuisance caller manages to contact you, it's simple to bar them - dial 1572 and follow the voice options to block the caller. Future calls from the same number will automatically be sent to a junk voicemail. BT call protect is free and is included with your BT landline.
FREE BT Parental Controls
BT Parental Controls is designed to help keep your family safe online. Once activated, all devices connected to your BT Hub will have content filtered to a restriction level you set. The same safety filters apply if you sign into BT Wi-Fi with your BT ID. It's easy to set up and manage. It's preferable that you use a BT Hub router, but you don't have to. To use the BT Parental Controls with your own router, you would need to update your router to use BT's DNS settings.
BT TV Pro (Model RTIW387)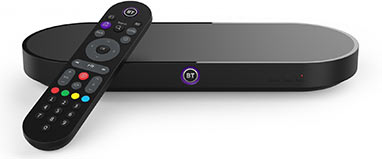 BT Pro TV offers an immersive streaming experience, combining a 4K HDR picture with Dolby Atmos sound. The set-top box can record up to 600 hours of free-to-air TV, double that of its predecessor (BT G4 Box). Built-in apps include BBC iPlayer, Amazon Prime Video, Netflix, BritBox, Now Cinema, Sky Cinema, Sky Sports & plenty of free view channels. The setup is simple, connect the BT Pro box to your Wi-Fi and you're good to go. Package prices vary from £18 to £75 per month. You can find the latest deals at BT here: BT Broadband & TV Offers
Ofcom Voluntary codes of practice for broadband speed
In addition to BT's 'Stay Fast Guarantee', BT have also signed up for Ofcom's Voluntary 'Code of practice for broadband speed'. This stipulates that if your broadband speed falls below your guaranteed minimum speed and has not improved within 30 days of reporting the fault, you can claim a £20 refund and leave your contract without being subjected to any early termination charges. You can read more about the right-to-exit (RTE) process on our broadband speed test page.