Our review of Sky
Our review of Sky TV & Sky Broadband
Sky provides a quad-play service that allows you to conveniently bundle your TV, broadband, home phone, and mobile services all with Sky. In this review, we'll focus on some of the key TV and broadband options from Sky.
What is Sky Q?
The Sky Q box is capable of delivering Ultra HD content to your TV via a satellite dish. This subscription-based TV service lets you record TV programmes directly to your Sky Q box. Sky Q is perfect for those who prefer to record TV programs or don't have sufficient broadband to stream on-demand TV.
---
What is Sky Stream?
Sky stream is a simplified way of getting Sky TV channels and app-based TV on-demand from a small internet-enabled device. There's no need to install a satellite dish, simply connect to any TV using a HDMI cable. Then connect the Sky Stream box to the Wi-Fi and you're good to go. Essentially, it's TV on-demand from £26 per month with no contract.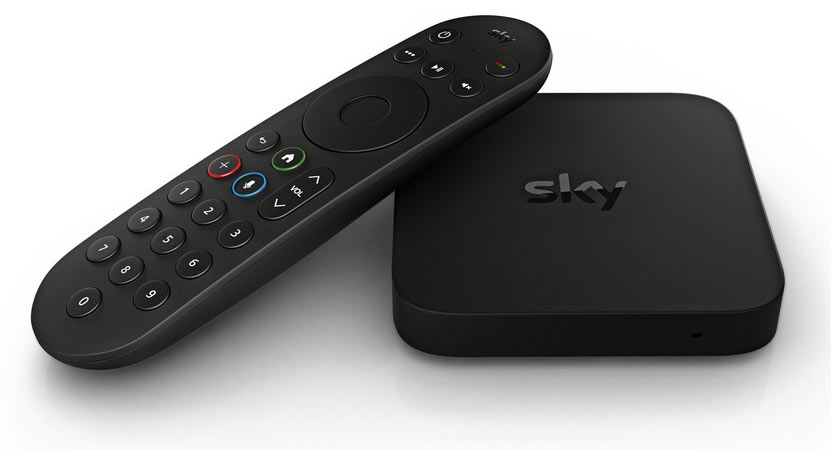 ---
What is Sky Glass?
Sky Glass was introduced in October 2021 and is a simple and elegant way of incorporating Sky TV into a 4K TV. There's no need for any additional set-top box or sound bar, no need for a satellite dish or engineer to visit. You just need a minimum 10Mbps broadband connection which can be wired or wireless. The Sky Glass TV comes in 3 different sizes: 43 inches, 55 inches and 65 inches. It is significantly deeper than most modern LED or OLED TVs, but this allows the TV to incorporate a 6-speaker Dolby Atmos sound system. There are three speakers hidden below the screen, forward facing, plus a discreet central sub-speaker. A further two speakers hidden at the top of the screen, pointing upwards, help to produce an immersive audio experience. In total, they can produce 215W of sound. This level of sound is beyond what you would typically achieve from a standard modern screen.
If you don't want the clutter and inconvenience of purchasing a separate sound bar, Sky Glass is a stylish solution. The TV feels well constructed with an anodised, aluminium frame. It's supplied with a discreet low-profile stand but can be wall mounted using the built-in Vesa bracket. It's worth pointing out that this TV is substantially heavier than your average flat-screen TV. Plasterboard fixtures are not recommended for wall mounting. Without the stand, the 43" screen weighs 14kg, the 55" 23kg and the 65" model is an incredible 28kg. The stand is a further 7kg for those that aren't wall mounting.
Sky Glass Prices:
Sky Glass can be purchased with a one-off payment or an interest-free monthly payment plan. Content for your Sky Glass TV is subscription-based with the option of an 18-month contract or a 31-day rolling plan. TV packages include access to Sky Sports, Sky Cinema, BT Sports, Sky Kids, Netflix and Sky Entertainment.
43" Sky Glass TV £14 per month for 48 months
43" Sky Glass TV £28 per month for 24 months
Or, a one-off payment of £699
55" Sky Glass TV £19 per month for 48 months
55" Sky Glass TV £38 per month for 24 months
Or, a one-off payment of £949
65" Sky Glass TV £24 per month for 48 months 65" Sky Glass TV £48 per month for 24 months Or, a one-off payment of £1199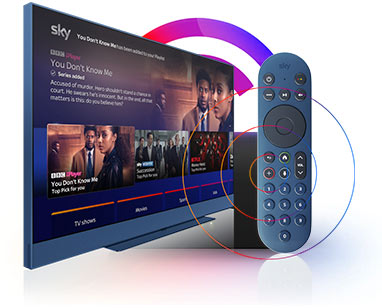 There is a £10 upfront fee if you choose to pay over 48 months or a £20 fee if you opt for a 24-month payment plan. Despite the nominal upfront fee, it's oddly marginally cheaper to purchase the TV on the interest-free option.
Sky Glass quick glance features
1
60Hz Screen refresh rate
2
1x USB-C Port for external devices up to 15W
3
3x HDMI 2.1 ports eARC and CEC supported
4
Bluetooth for remote only
5
Voice command controls
6
Pause and rewind live TV (up to 45 minutes)
7
Minimum broadband connection required 10Mbps
8
Recommended broadband speed for UHD content 25Mbps
9
21 built-in app services like BBC iPlayer, Disney+, Netflix
10
Vesa wall mount support built-in
12
24 or 48-month interest-free option available
Sky Broadband Options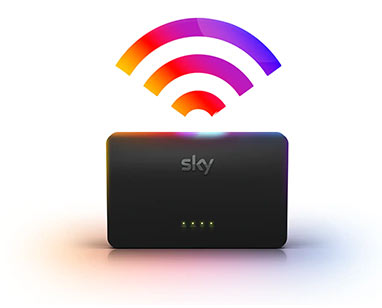 Sky offers an excellent range of broadband services, all of which come with an 18-month contract. Sky's broadband prices aren't as competitive as they used to be, but customer service and reliability are above average, according to the Ofcom results produced in January 2023. Unlike some budget providers, sky tends to charge a one-off broadband setup fee. So, if you're on a budget, look out for the set-up costs and delivery fees when comparing broadband prices. We compare broadband deals by first-year cost, incorporating additional delivery and set-up fees. Enter your postcode into our broadband availability checker to compare Sky broadband deals in your area.
Sky Superfast: Fibre broadband (FTTC) with an average connection speed of 59Mbps. Widely available and suitable for most homes.
Sky Ultrafast: Offers an average download speed of 145Mbps and 27Mbps upload, currently available to 32% of UK homes.
Sky Ultrafast Plus: Offers an average download speed of 500Mbps and 60Mbps upload, currently available to 24% of UK homes. This full-fibre broadband package does not require a landline phone service.
Gigafast Broadband: Offers an average download speed of 900Mbps and 90Mbps upload, currently available to 24% of UK homes.