My broadband speed is slower than advertised
The UK Advertising Standards Authority (ASA) has strict rules about how internet service providers (ISPs) can advertise broadband speeds. An ISP must display the 'average speed' that at least 50% of their customers can achieve during peak time (8pm-10pm).
For example, a standard ADSL broadband package from TalkTalk may be able to achieve a maximum speed of 17Mbps, but it can only advertise this broadband package as 11Mbps, which is their peak hour rate for this particular package. All broadband deals listed on FasterBroadband.co.uk are displayed with the peak 'average customer' speed. To view the maximum achievable speed for any deal, click on it's 'key features' link on our Broadband Deals page.
When you switch your broadband provider, your new ISP should clearly state what broadband speed you're likely to achieve at your property. This may be different from the speed advertised as 'average speed'. However, they must indicate your minimum speed before you agree to the contract.
Right to exit (RTE) process
Not all ISPs have signed up for this Ofcom voluntary code of practice. If your provider has, then if your broadband falls below your agreed minimum speed and they fail to fix it within 30 days of you first reporting the fault, you have the right to exit your contract without any early termination charges. This right to exit also applies to bundled TV products on the same line, irrespective of whether the two services were purchased simultaneously, or on the same contract. It should be noted that within that 30-day period, you must reasonably accommodate any engineer visits they deem necessary. If you do not make yourself available when required, the 30-day period will be extended accordingly. A copy of Ofcom's current RTE process can be viewed here: Ofcom Voluntary Code of Practice (Residential) PDF
Currently, the following residential ISP's have joined this Ofcom code of practice:

What is a good internet speed for streaming TV?
You should be able to stream TV programmes comfortably with a connection speed as low as 3Mbps. For example, streaming BBC iPlayer programmes in Standard Definition (SD) requires a connection speed of 1.5Mbps. However, if you choose to stream in High Definition (HD), a connection speed of 5Mbps is required. If you experience buffering problems with streaming in HD, switching to SD should resolve this.
| TV Service | SD Standard definition | HD High definition | 4K Ultra HD |
| --- | --- | --- | --- |
| BBC iPlayer | 1.5Mbps | 5Mbps | Not available |
| Netflix | 3Mbps | 5Mbps | 25Mbps |
| Now TV | 2.5Mbps | Not available | Not available |
| YouTube | 1.1Mbps | 5Mbps | 20Mbps |
| Apple TV | 2.5Mbps | 8Mbps | 25Mbps |
Apple MAC WiFi diagnostics tool
macOS has a built-in Wifi diagnostics tool that is often overlooked. That's no surprise as it's well hidden, but nevertheless it's a great way to view your WiFi signal strength. Follow the steps below to start monitoring your WiFi signal in real-time.
Step 1: Hold down the Option (Alt) ⌥ key (to the left of the space bar), whilst clicking the WiFi icon in the top right of your screen.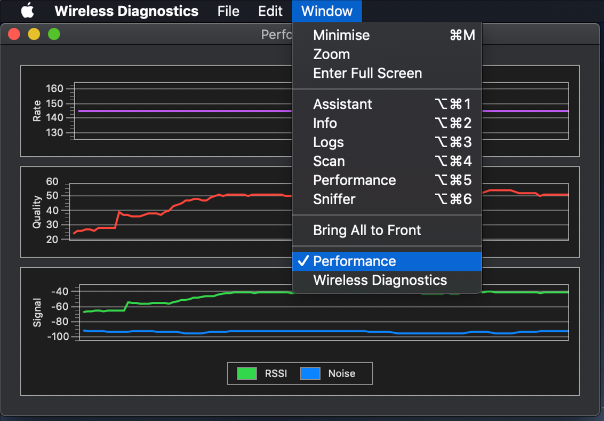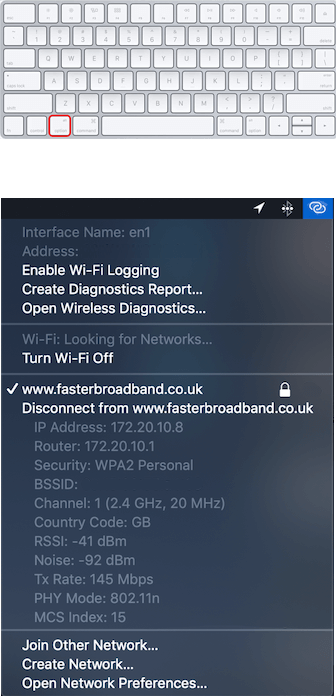 Step 2: You should now be able to see a dropdown menu, like the one pictured below. The contents of this menu are handy as they show the type of WiFi network that you're connected to. The menu also shows the frequency your router is transmitting on (see 'Channel') - 2.4 GHz or the faster 5 GHz range. The type of security should ideally be WPA2, or the more recent WPA3. If your security is shown as either WEP or WPA (without any numbers after it), the security of your network traffic will be compromised.
Step 3: Within the dropdown menu, select 'Open Wireless Diagnostics'. Once the program window opens, navigate to the menu tab then select 'Performance' as per the image above.
Step 4: The program will display 3 live performance graphs which will show information that you can use to diagnose faults, compare different routers or different router positions.
The MAC Wifi diagnostics tool uses live graphs to show the performance of the following key aspects of your Wi-Fi connection :
Rate: shows the WiFi transmission rate over time in megabits per second.
Quality: shows the signal-to-noise ratio over time. Your device disconnects from the WiFi router when the quality is too low. Many factors can affect your WiFi signal quality, including the distance between your device and the router, signal obstruction due to objects such as walls and interference from other electrical items like microwave ovens. WiFi printers and cordless phones can also play a part in degrading your WiFi signal
Signal: shows both signal (RSSI) and noise measurements over time. You want the RSSI to be high and the noise to be low, so the larger the gap between RSSI and noise, the better.