Our review of SSE Broadband
Important news for SSE Broadband customers
SSE August 2022, news update. SSE broadband and home phone service are provided by OVO Energy, which has recently agreed to sell its phone and broadband business to TalkTalk. Read out TalkTalk reviews
SSE Full Fibre Broadband - FTTP | Launched January 2022
SSE have been quick to launch 4 new Full fibre broadband packages. The rollout of FTTP (Fibre To The Premises) came at the end of January 2022. Similar broadband providers like Plusnet have yet to release FTTP broadband packages, giving SSE the head-start. FTTP broadband is 25 times faster than standard fibre broadband. This is because the fibre-optic cable is run directly to your home. SSE offer four FTTP options: Full Fibre 100, Full Fibre 200, Full Fibre 500 and Full Fibre 900. The package names indicate their average download speed, with the top package 'Full Fibre 900' offering an average download speed of 900Mbps.
SSE Standard Fibre Broadband options
SSE offer two standard fibre broadband options 35Mbps (Unlimited Fibre) and 63Mbps (Unlimited Fibre Plus). SSE no longer sell standard ADSL broadband. This option was removed in November 2019. Whilst SSE broadband is competitively priced, it isn't the cheapest on the market. SSE are, for example, generally cheaper than BT & Virgin Media, but they don't quite match the broadband deals from Plusnet or TalkTalk. There's no doubt that if you want a fast, no-frills, budget broadband provider, SSE is more than capable of delivering a reliable service and would be worth considering.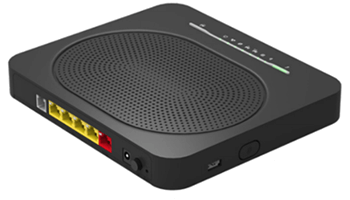 SSE Router - DWA0120
The Technicolor DWA0120 router, which currently retails for £80, is free with any SSE fibre broadband package. For a budget broadband provider, it's actually a reasonable router, we've listed some of its key features below. Whilst this router isn't the prettiest of tech, and it looks very dated when placed next to the BT smart hub, it is more than capable of delivering a good Wi-Fi signal for the money.
---
Router Interface
4 x Gigabit Ethernet Lan switch
1 x Gigabit Ethernet WAN port
Router W-Fi
Dual-band Wi-Fi
2.4 GHz (2x2) - 802.11n
5 GHz (3x3) - 802.11ac
Beamforming with 802.11ac
Manual & Auto Channel selection
WiFi Protected Setup (WPS)
Parental control features
Website filtering by URL
Limit access times for connected devices
---
SSE 60-Day Broadband Happiness Guarantee
Does SSE live up to its strapline of 'Frustration-Free Broadband'? SSE are confident they can deliver a broadband service you'll be happy with. It's not unusual for ISPs to offer a 30-day exit option if customers aren't happy with their service. SSE take this to the next level by allowing new customers to leave their contract without early termination charges if, within the first 60 days, they decide that they aren't happy with the service they've received and SSE have been unable to fix the problem. We await your reviews and comments to find out if they truly live up to their 'Frustration-Free Broadband'.
SSE Traffic management policy (2020 network upgrade)
Traffic management in broadband provision is when an internet service provider (ISP) artificially slows down their network during peak times. If a broadband provider promotes their broadband as 'Truly Unlimited', you can use your internet connection without any usage caps and with no traffic management policy. In April 2020, SSE completed its network upgrade and is now using the Open Reach network. At the same time, SSE announced that they'll no longer be using their traffic management policy. So, all SSE broadband packages are now 'Truly Unlimited'. All pre-existing customers will also benefit from this network upgrade.
SSE Phone line rental
Like most other broadband providers, SSE broadband packages include phone line rental. However, they don't automatically include a calling plan. So, any calls you make would be chargeable at full rate unless you add a calling plan to your account. Without a calling plan, calls from your landline can be expensive. SSE charge 18 pence per minute to UK numbers starting with 01,02 or 03 and UK mobiles. A 23-pence connection charge applies to each call, so a 30-minute call to a local rate number could cost £5.63.
SSE home phone options
Standard option line rental only – You can still make landline calls 'pay as you go'
Evening & Weekend calls – £5 extra per month (Includes local, national and UK mobiles)
Anytime calls - £10 extra per month (Includes local, national and UK mobiles)
Anytime Plus - £12 extra per month (includes international calls to selected countries)
Inclusive free calls are limited to 70 minutes per call. If you want to talk for more than 70 minutes, it's best to hang up and make a second call. Per-minute call charges apply after 70 minutes. This is standard practice with most landline phone providers, who typically limit the inclusive call duration to 1 hour.
Although SSE broadband is competitively priced, their call plans make a phone and broadband bundle less appealing. Virgin Media offers broadband at a similar price point but includes evening and weekend calls for free and regularly offer gift card incentives.
Standard inclusive phone features:
Caller Display ID – See the phone number that's ringing you (compatible display phone required)
141 (Number withhold feature) – Withhold your number for individual calls. This feature can be made permanent for all calls but is an opt-in feature. You can override it for individual calls if required.
1471 (See who called) By calling 1471 you can find the phone number of the last person who called you. This won't reveal a number that was withheld.
Optional extra features include: 1571 - Voicemail 3-way calling Call barring Choose to refuse Anonymous call request Call diversion Smart divert Call minder Call waiting Reminder call Ring back.