If you're new to the world of VPN, or just want to improve your online security with a free VPN - then you've come to the right place!
We've tested a subscription service from one of the leading VPN providers and compared it with a free VPN service from Proton. We'll explain how to create a VPN account and explain the potential parental pitfalls of using a VPN service.
What is a VPN?
VPN stands for 'Virtual Private Network'. It's essentially a way of creating an encrypted tunnel for your internet traffic that's out of reach of your ISP (Internet Service Provider) or tech-savvy criminals. When you search the internet, your search request is sent from your computer to your ISP. From there, your ISP will look for the location of the website address and direct you to the server where that website is hosted. But, to connect to the internet, your device needs an IP address (Internet Protocol). It'll look something like a string of numbers in this format: xx.xxx.xxx.xx This is a little bit like your home address 'online'. So, your ISP has a record of the website you visited and the IP address of where the request came from. You can see your own IP address by visiting www.whatsmyip.org. You'll also see information like: the name of your ISP, the type of computer you're using - PC, MAC etc and it can also reveal: the operating system, website browser and version that you're using. Even for people with nothing to hide - this can seem intrusive!
Do I need a VPN?
Internet anonymity is a controversial topic. You may want to protect yourself from unethical online snoopers looking for ways to retrieve account credentials left accessible by an insecure network, but they're not the only ones after your data! Commercial companies have been interested in our browsing and buying habits for years. It's why Amazon has been so successful and why loyalty cards exist. Some may say "if you've nothing to hide, then you've nothing to worry about". However, you may not care about someone knowing that you've searched for a holiday in Spain or streamed Love Island, but you may not appreciate targeted advertising when you've researched a medical condition. If you're sat on the fence - ask Edward Snowden what he thinks!
How do I get a free VPN?
Proton VPN is a very well-respected VPN provider based in Switzerland. Switzerland has some of the world's strongest privacy laws. It's also outside of EU and US jurisdiction. Switzerland isn't under any obligation to enact laws from any politico-economic union such as the EU. So, if you're looking for a VPN provider - it's a great place to find one!
Most of the major VPN providers offer some form of FREE VPN trial. Proton offers a FREE VPN service with no time or data restrictions. There are, however limitations, which include a limited number of available servers to use. The free servers you can connect to are in; the United States, Netherlands & Japan. The connection speed of the free service is also restricted, but still, more than respectable considering it's free to use and funded by Proton's subscription customers. It's perfect for occasional use, general web browsing, or connecting to public Wi-Fi hotspots when travelling.
To begin taking advantage of Proton's free VPN service, you just need to visit their website and register with a username and password. www.account.protonvpn.com/signup
ProtonVPN Conclusion

In our recent tests of ProtonVPN's service, we've found that both their phone app and their desktop version have a very intuitive interface. We commend Proton for leading the way by offering a FREE version of its service without crippling its usability. However, you'll need to upgrade if you want to use Bit torrents (P2P traffic). Despite Proton advertising their service as MacOS compatible, we were disappointed that the desktop version only supports the IKEv2/IPSec protocol. We're unsure why as the iPhone app supports both IKEv2/IPSec & the OpenVPN protocol. We contacted Proton, who confirmed that they're working on implementing alternative protocols for future macOS, but they don't yet have a release date.
---

Our Review of NordVPN
NordVPN don't offer a FREE VPN option as such, but they do have a 30-day money-back guarantee. So, if you decide that it isn't for you, it won't leave you out of pocket. NordVPN is extremely competitive on price, and special offers vary, but we've seen prices drop below £3 per month. NordVPN is consistently one of the leading all-round VPN providers and here's why: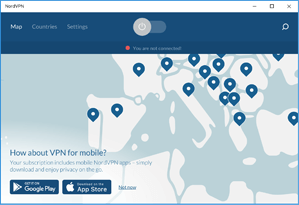 NordVPN is based in Panama which has no mandatory data retention laws. So, like ProtonVPN, they operate a strict 'no data log' policy. This is in contrast to your UK ISP, who have a legal obligation to collect your personal data logs.
Some of the key advantages of the NordVPN
Switchable protocols including; IKEv2/IPSec & the OpenVPN.
NordVPN have over 5400 servers in 59 countries.
NordVPN will work with Netflix and other TV streaming services like Amazon Prime Videos. It has a SmartPlay feature that's specifically designed to bypass geo-blocks. You can access Netflix in the US without compromising your security by combining DNS with VPN technology. Not all VPN providers can achieve this. Unfortunately, this will not work with Apple TV. However, if you want to bypass geo-blocks on the Apple TV, it can be done using NordVPN, but you will need a router with VPN options.
NordVPN Kill switch: If your VPN connection drops, it can leak your DNS requests and IP address. A kill switch is a great feature that prevents internet usage until a secure VPN connection is re-established. But, unlike its competitors, NordVPN has gone a step further and allows you to control which apps are blocked if your VPN connection is lost.
Mobile Split Tunnelling: You can manage which apps use your local IP address and which programs you want to assign to your VPN connection.
Adblocking comes built into the app. NordVPN will stop websites from tracking and profiling your online habits and remove ad pop-ups.
Advanced features: For the avid user, you can purchase a static IP address from NordVPN. This would make it incredibly difficult for TV streaming services to flag you as a VPN connection. According to NordVPN, their service also works in China, although we didn't test this feature.
Get up to 68% off Nord VPN
---
Will my parental controls work with a VPN?
Is using a VPN network safe for my children?
Ultimately – yes, it is! But, if your child has set up their own VPN, you may want to question why? Your ten-year-old is probably not setting it up to keep safe online -although kudos if they are! But, what they may want to do is circumvent parental controls that you've implemented via your ISP. So, remember that any previous parental controls you have set up with your ISP will not work when your child is using a VPN connection. If the parental controls are built into the software on their device e.g. Microsoft or Apple parental features, they will remain the same even if your child is using a VPN.
Is it illegal to use a VPN?
VPNs notoriously conjure up images of the dark web and illegal activity. There are a few countries like North Korea, Russia, The U.A.E, Iraq, Oman, and China where internet censorship laws prohibit using a VPN. But most countries, including the UK & the US, have no reason to make it illegal. There are many legitimate reasons for using a VPN. Some companies only allow remote workers access to company servers when using a VPN connection. We would urge readers to use common sense, though - doing something illegal behind a VPN does not make it OK!
FREE Data breach search
Using a database developed by Security expert Troy Hunt, our search facility will check over 10.4 billion records that are publicly available online to see if you're a victim of a data breach. If your email address returns results then the security of your accounts has been compromised. Check your email for free here