What is latency?
Arguably more important than speed, latency is the amount of time it takes for a single packet of data to travel all the way from your console to a destination server and back again. This journey takes milliseconds.
However, even a small increase in latency can have devastating effects on your gaming experience, causing what most people refer to as 'lag'. It may also be referred to as a 'ping rate' when you run a broadband speed test. Your ping results are then displayed in milliseconds (ms).
---
This gaming guide can help answer:
---
How do I fix latency lag?
Occasionally slow ping times can be caused by the server you're trying to connect to, in which case there is nothing you or your ISP can do to fix the problem. But to determine what is causing the lag try the steps below.
1. Connect your device to your router using an ethernet cable, rather than a WiFi connection.
2. Turn off other devices that are streaming or downloading on your network.
3. Pause any updates that your games console or computer might be downloading or installing.
4. Ensure your HDMI cable is the best available for your console (See HDMI table below).
5. Power cycle your router. Broadband speed and connectivity issues can often be improved by simply switching your router off for a short moment.
6. Avoid 3G mobile broadband. An average 3G mobile phone connection will have a latency (ping time) of over 100ms.
7. Make sure your PC/Games console or router is not using a VPN (virtual private network) connection. A VPN connection will have a drastic effect on your latency times, even if you are using a VPN within the same country.
Can changing my DNS help reduce gaming lag 'latency'?
Although DNS is not directly related to your internet speed, it can influence the time it takes for your ISP to retrieve the website you are looking for. If you're using the router supplied by your ISP, it will be pre-set with their DNS records. By changing the DNS in your router, you will be bypassing any parental controls which you might have previously setup to protect your home network. But, if you don't use any parental control features, we would recommend switching your DNS to Cloudflare, Google or Open DNS. Alternately, you can update the DNS records manually in the Xbox, PlayStation or computer. This will help your router to retain any parental settings.
DNS Unicorns and fairies (warning - spoiler alert!)
There's much debate online that changing DNS can affect broadband speed and gaming latency (ping rate). Well… according to the unicorns and fairies this might be true. But it isn't! We don't need to prove it… we just need to understand what DNS does. The DNS is used to convert the recognisable website name to its IP location on the internet. This look-up is made once, then stored in cache. At the start of a game, your games console may need to make a DNS call to locate the server that you're connecting to. But once you're connected - that's it. If your game already knows the server IP address it's looking for, no DNS look-up is required. No data is sent through a DNS server, so it doesn't affect any upload or download speeds. Changing the DNS on your phone, tablet or desktop can have a marginal … but noticeable improvement on general website browsing. This is because every website you load has to make an initial DNS look-up, then many more if the website is heavily loaded with external resources and adverts - far more than any online game. So, although we recommend changing your DNS, it isn't going to change your gaming latency issues… sorry!
Cloudflare DNS (Primary DNS: 1.1.1.1 - Secondary DNS: 1.0.0.1)
Open DNS (Primary DNS: 207.68.222.222 - Secondary DNS 207.68.220.220)
Google DNS (Primary DNS: 8.8.8.8 - Secondary DNS: 8.8.4.4)

How to test broadband latency (ping)
Most games will be able to measure and display your exact ping to the server you're playing on during the game. If you want to know what your ping is before playing use our broadband speed tester. to display your ping rate.
Required upload & download speed for gaming
A broadband speed above 5Mbps download and 1Mbps upload is the minimum broadband speed for gaming as latency has a much greater effect on your lag than speed. However, if your household use the internet simultaneously for other things e.g. watching films, streaming music and file sharing, this all puts a strain on your bandwidth. In this instance you should look at an internet connection of over 30Mbps (or 10Mbps per person as a rough guide if you want a buffer free, responsive service). Although superfast speeds are not essential for gaming, fibre broadband would provide the best gaming experience - giving a much more stable connection to the internet.
Broadband usage allowance
A broadband usage allowance is a monthly download limit applied to your service in order to cap your usage of the network. Cheap broadband deals sometimes carry data limits that are far too small for gamers. Gaming doesn't require a lot of data, but the initial download of the game and the subsequent updates can be way beyond the data limits set by your ISP. Compare unlimited broadband deals.
Most ISPs offer unlimited broadband deals with decent 'up to' speeds that would be easily sufficient for online gaming. If cost is the most important factor, take a look at TalkTalk or Plusnet. If superfast speeds are more important, take a look at BT or Virgin Media.
Mobile broadband can be fast enough for gaming as long as you have a strong 4G or 5G connection and your ping rate is below 100ms. The pitfall can be the data usage limit. It may be cheaper and more stable to install a fixed broadband connection.
What is a good latency for gaming?
In a first-person shooter (FPS) like 'Overwatch', action responses happen in a fraction of a second, so a latency of more than 100 milliseconds can affect the experience of the gamer.
Here's a guide to latency's effect on gaming:
A latency (ping time) of less than 20ms is an excellent latency rate.
A latency (ping time) of between 20ms – 50ms is fine for (FPS) and driving games.
A latency (ping time) of between 50ms – 100ms is adequate.
A latency (ping time) of between over 100ms is borderline unplayable for a FPS game like 'Call of Duty'.

If you are playing a slower turn-based game like Hearthstone a ping time over 100ms is less of a concern.
What is packet loss?
Packet loss is caused by data not reaching its destination for any reason. With such long lengths of cable involved, this is expected. But, if it gets too high, it can result in your game seemingly jumping and freezing as you play. Packet loss could also present as frames missing within a video call or robotic, disjointed VoIP calls. If this is affecting you, we recommend that you contact your ISP.
Will changing my HDMI cable help latency in gaming?
Ultra-High-Speed HDMI Cable: Not all HDMI cables are the same. The latest HDMI 2.1 can support: Audio Low Latency Mode (ALLM), Variable refresh rate (VRR), support up to 48Gbps bandwidth as well as other benefits. So, if your games console and display are capable of these features, make sure that your HDMI cable is too! Both the new Xbox Series X and the Sony PS5 can take full advantage of HDMI 2.1.
Look for the Ultra-High-Speed Certification Label Affixed to the packaging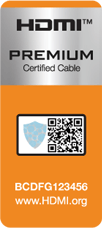 Verification - Cable is verified as certified under the Ultra-High-Speed HDMI Cable certification program.
Identification - Look for the official Ultra-High-Speed HDMI cable name logo on the packaging.
Authentication – The combination of hologram, QR code and label ID number are unique to each individual cable package and enable compliance tracking and anti-counterfeit confirmation. HDMI counterfeit app can check if your cable is genuinely certified.
Optimise your display with auto low latency mode: Check your settings. Some games consoles support features like 'Auto Low Latency Mode' (ALLM) and 'Variable Refresh Rate' (VRR). ALLM and VRR are also known as 'game mode' on some TVs. These settings will automatically set the connected display to its lowest latency mode. VRR synchronises the display's refresh rate to the game's frame rate, maintaining smooth visuals without tearing. This helps to minimise lag, giving the most responsive gaming experience.
Still having issues with your gaming latency? Remember the ping rates will be different from one ISP to the next. This is due to variables outside of your control. So, if you've done everything above and it still isn't fast enough, it might be time to try another one! Find the best broadband deals in your area.
Supported HDMI features up to HDMI 2.1
HDMI version
1.0
1.1
1.2
1.2a
1.3
1.3a
1.4
1.4b
2.0
2.0b
2.1
Full HD
Yes
Yes
Yes
Yes
Yes
Yes
Yes
Consumer Electronic Control (CEC)
Yes
Yes
Yes
Yes
Yes
Yes
Yes
Updated list of CEC commands
No
No
No
Yes
Yes
Yes
Yes
Auto lip-sync
No
No
No
Yes
Yes
Yes
Yes
Dolby TrueHD / DTS-HD Master audio bitstream
No
No
No
Yes
Yes
Yes
Yes
3D Video
No
No
No
No
Yes
Yes
Yes
Ethernet channel 100 Mbits
No
No
No
No
Yes
Yes
Yes
Audio return channel (ARC)
No
No
No
No
Yes
Yes
Yes
2 video streams (Dual View)
No
No
No
No
No
Yes
Yes
4 audio streams
No
No
No
No
No
Yes
Yes
Hybrid Log-Gamma
No
No
No
No
No
Yes
Yes
HDR (High dynamic range video)
No
No
No
No
No
Yes
Yes
Static HDR metadata
No
No
No
No
No
Yes
Yes
Dynamic HDR metadata
No
No
No
No
No
No
Yes
Quick Media Switching (QMS)
No
No
No
No
No
No
Yes
Quick Frame Transport (QFT)
No
No
No
No
No
No
Yes
Display Stream Compression (DSC)
No
No
No
No
No
No
Yes
Enhanced audio return channel (eARC)
No
No
No
No
No
No
Yes
Variable Refresh Rate (VRR)
No
No
No
No
No
No
Yes
Auto Low Latency Mode (ALLM)
No
No
No
No
No
No
Yes
---
Maximum data rate for HDMI cables
Video Format
HDMI Version / Maximum Data Rate
Resolution
Refresh
Rate (Hz)
Data Rate
Required
1.0–1.1
1.2–1.2a
1.3–1.4b
2.0–2.0b
2.1
3.96 Gb/s
3.96 Gb/s
8.16 Gb/s
14.4 Gb/s
42.6 Gb/s
1280×720
(720p)
30
720Mbit/s
Yes
Yes
Yes
Yes
Yes
60
1.45Gb/s
Yes
Yes
Yes
Yes
Yes
120
2.99Gb/s
No
Yes
Yes
Yes
Yes
1920×1080
1080p
30
1.58Gb/s
Yes
Yes
Yes
Yes
Yes
60
3.20Gb/s
Yes
Yes
Yes
Yes
Yes
120
6.59Gb/s
No
No
Yes
Yes
Yes
144
8.00Gb/s
No
No
Yes
Yes
Yes
240
14.00Gb/s
No
No
Yes*
Yes
Yes
2560×1440
1440p
30
2.78Gb/s
No
Yes
Yes
Yes
Yes
60
5.63Gb/s
No
No
Yes
Yes
Yes
75
7.09Gb/s
No
No
Yes
Yes
Yes
120
11.59Gb/s
No
No
Yes*
Yes
Yes
144
14.08Gb/s
No
No
Yes*
Yes
Yes
240
24.62Gb/s
No
No
No
Yes*
Yes
3840×2160
4K
30
6.18Gb/s
No
No
Yes
Yes
Yes
60
12.54 Gb/s
No
No
Yes*
Yes
Yes
75
15.79 Gb/s
No
No
Yes*
Yes*
Yes
120
25.82 Gb/s
No
No
No
Yes*
Yes
144
31.35 Gb/s
No
No
No
No
Yes
240
54.84Gb/s
No
No
No
No
Yes*
5120×2880
5K
30
10.94Gb/s
No
No
Yes*
Yes
Yes
60
22.18Gb/s
No
No
No
Yes*
Yes
120
45.66Gb/s
No
No
No
No
Yes*
7680×4320
8K
30
24.48Gb/s
No
No
No
Yes*
Yes
60
49.65Gb/s
No
No
No
No
Yes*
120
102.2Gb/s
No
No
No
No
Yes*
*Achievable with adjustments