Excessive overheads, tighter profit margins and the increase in fuel duty has driven many people running small businesses to do so from home rather than from commercial premises. With the help of eBay and other e-commerce websites, running a small business from home can still look professional. However, using your home phone as an office landline can give the wrong impression. Using your mobile number for your new business can also look a little unprofessional unless you are a tradesman. The most practical and professional way to run your new business from home is to install a second landline. Unfortunately, this can be very expensive. BT charge £140 for installing a second phone line and then £19.99 per month line rental on residential rates or from £17.60 ex Vat per month on business rates (BT Value line plan). Prices are also subject to a minimum 24-month contract.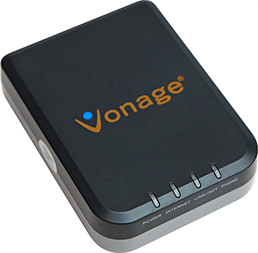 All you need is a VoIP Vonage Box, a broadband connection and any standard telephone. Your outgoing calls would be made in the same way as a traditional landline call, there are no inconvenient prefixes to dial. The only difference would be that your clever little Vonage box would route your call via the Internet!
The other great advantage is that Vonage offers a 1-month rolling contract, so if things don't work out with your new business venture, you're not left with a 12-month commitment. Visit the Vonage website for more details: www.vonage.co.uk
So, before you invest hundreds of pounds in installing a second phone line, why not try a VoIP service like Vonage or Orbtalk. Vonage doesn't charge for installing a second phone line and call packages start from as little as £9 per month with unlimited calling to UK landline numbers. You may not have knowingly encountered VoIP (Voice over Internet Protocol) but the chances are you have called lots of companies that are using it. VOIP is not just used by small business entrepreneurs, many large companies also use VoIP because of its flexibility and significant cost savings. With VoIP, your phone calls are routed via the internet. In the past Voip has sometimes suffered from poor call quality. Now things have moved on and it's often difficult to distinguish the difference between a VoIP and a traditional landline call.
One of the main advantages of setting up VoIP is the ability to select the area code of your new office number. So, if you live in Manchester and want to give the impression of a London location, then VoIP is the perfect solution. You are not restricted to London numbers - just select your preferred UK area code when you sign up. Because VoIP does not work from a fixed phone line, you can take your number with you if you move to a new location.
The benefits of VoIP for a small business or as a second home phone line
Short-term contract (1-month rolling)
A second telephone line via your broadband connection
Free installation (BT charge £140 for a second line installation)
No line rental fees (BT charge £19.99 per month)
30 Day money back guarantee
No need to redial after 60 minutes to avoid call charges
Flexible options to redirect calls to a mobile
Free Smartphone App, use your plan on up to 2 mobiles
Keep your existing phone number, or choose a UK area code and number